School Info
Richard A Smith
Middle School Principal
richard.smith@k12northstar.org
(907) 488-2271
Address
300 E. 8th Avenue
North Pole, AK 99705
School Hours
Students: 8:00 am - 2:30 pm
Office: 7:30 am - 3:30 pm
Announcements & Upcoming Events
Wrestling Tournament @ Eielson
Order Yearbooks Online Now!
CLICK HERE to order your yearbook.
SPRING PARENT TEACHER CONFERENCES
Hello Families:
As spring slowly approaches Parent Teacher Conferences will be here before you know it. Feburary 16th and 17th are our current dates for conferences.
Times are: Monday, February 16: 10:00 a.m. to 1:30 p.m. and 2:30 p.m. to 6:30 p.m. Arena Style
Tuesday, February 17: 8:00 a.m. to 11:00 a.m. and 12:00 p.m. to 4:30 p.m. Classroom Style
We hope to see you at one of the times listed.
McHenryball tournament takes charity up a notch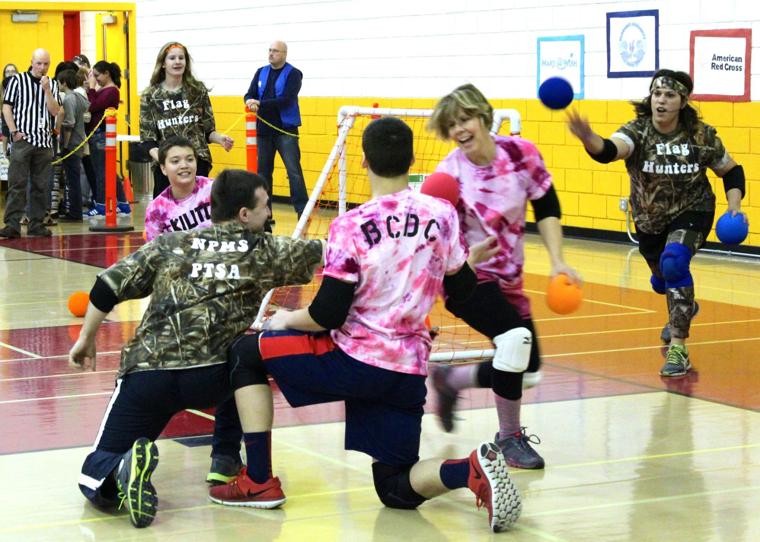 FAIRBANKS — North Pole Middle School's hallmark gathering, its annual McHenryball tournament, survived a brush with risk management this fall, being deemed safe for play just one or two weeks before its scheduled start date in December.
The school debuted its third annual tournament on Dec. 19, pitting 11 student and faculty teams against each other in a friendly bracket. Each team competed for fun, bragging rights and the largest portion of the night's proceeds to donate to a local nonprofit group of their choosing.
Eleven teams stepped onto the court: The Dodge Vaders, Beast Mode, The Incrediballers, the Flag Hunters, Fearless Warriors, Candy Cane Crushers, The A-Team, Double Dare, The Dream Team, The Dodgers, and Target Practice.
Each team selected a nonprofit organization. The amount donated to their chosen organization was determined by their placing in the event.
Read full article
Knighty News - January 2015
Winter break has postponed the printing of North Pole Middle's newsletter, Knightly News. Hopefully you will see it in your mail shortly. In the mean time it can be viewed online as a PDF, just click on the link below. Thank you for your patience.
AFTER SCHOOL TUTORING
Hello Parents and Families:
We are pleased to offer after school tutoring on Tuesdays and Thursday from 2:45 to 4:00 p.m., what's even better is that our teachers are those offering the help to our students. Please contact Kimery Healey in the front office if you have questions about how to access this service and the conditions for doing so.
North Pole Middle Students Shine at Competition
HEY ATHLETES!
In order to participate in any sport at North Pole Middle School you must have a current physical on file. A current physical is one that is less than a year old. In addition to a physical you must have a Activity Consent and Emergency Medical Information Form on file. Both of these documents can be found at the front office if you need to obtain a copy.
DISTRICT DRESS CODE CHANGE
Below is language included in the School District dress code for students. These changes were made during the 2013-14 school year and are applicable and will be enforced beginning the 2014-15 school year. Please review the language below and discuss with your student what is and is not appropriate to wear at school.
Administrative Regulation
1041.1 Freedom of Speech & Assembly (Continued)
Shall Not Be Worn At School (continued…)
Articles of clothing that are provocative or revealing in nature, including those
constructed from spandex or similar form-clinging fabric; leggings or tights without a
shirt, tunic, skirt, or shorts of suitable length over them; spaghetti straps; low
necklines; clothing that reveals underwear; bare midriffs; bare shoulders, including
racer backs; bare backs; low-cut tops or dresses; halter tops, etc. All cleavage must
be completely covered. Undergarments of males and females may not be exposed,
even when a student leans over or sits down. All tops must overlap or be completely
tucked into pants, shorts or skirts to avoid any bare midriff or lower back.
2014-15 School Supply List